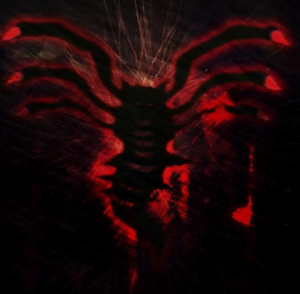 Mu-Shadra
, simply known as 
Mu
, is a
Shadra
, one of
Outhria
's most hostile and malevolent beings. Unlike the majority of the Shadra dragonflight led by the patriarchal
Vlaadtu
, Mu is not sided with
Xanados
and is sovereign of its own will.
Known as a beast of unknowable identification, it is revealed through adventuring that is was the "sleeper" that forced the Mythical Beasts into a slumber to prevent them from "harassing" it. It is located on Nothingness End, a hidden island south of Outhesta. However, a small quest must be done to uncover the secret way to access its island.
Mu exists as a defeatable world boss, and it is revealed to be immortal. It cannot truly die according to ancient lore, and simply rests before returning. It poses no threat until attacked. Because of its high health pool and devastating attacks, it is often considered to be the hardest boss in A Legend's Legacy: Risen Sun, comparable with the Shardlord on Rising difficulty.
His defeat is required for the Absolute Nothingness achievement, and drops a majestic mount.
Discovering "Nothing"
Edit
There are three requirements to access Mu.
You must have defeated all seven Mythical Beasts.
You must have found the Absential Gatestone from the Sacred Treasure questline.
You must have the Witnessing Finality achievement to unlock the Outhesta ability to unlock the Paradox Sense for a limited time.
Activating the Gatestone grants the quest Discovering Nothing. However, it will not show up on the map at all. You must find the quest area yourself. In order to do so, you must go to the Eye of Absence, a small isle on southern Luxor Reach. Once there, use the Paradox Sense ability to see a "Paradox Font", and use the stone with it. The Font will glow with an eerie black light, and will reveal the island to you.
You can now access the island, and fight against Mu, or discover more lore objects.